The beauty salon is a newly rising business nowadays and it's a perfect place for people to relax their mind, body, and soul. There are a variety of services for a salon to provide and pedicure service is one of these impeccable services for customers to soothe their body. The pedicure and manicure service are indispensable for your salon and have the power to seek and stabilize your potential client.
You must give full attention to choosing the right pedicure spa chair whether you are a newbie in this industry or you have had some experience in the beauty salon business for a while. Pedicures and manicures are the main services the customers choose when they go to a salon so you must make lots of effort into researching them and finally get the best pedicure chairs for your salon. This article has given you some guides to select the best pedicure chairs for your salon furniture.
Buy pedicure chairs 12 tips
1. Reputable manufacturer
No matter you buy from overseas or domestic, it's important to choose the pedicure chair manufacturer with a good reputation which can guarantee the product quality and you will be also beneficial from its warranty. A good reputation manufacturer means you will get clear usage guidelines and great after-sale technical support.
2. Customization
If you have ideas about your specific pedicure chairs, you can also select the pedicure chair manufacturer with customization service. In this way, you are sure of the design and production process so the product quality can be under your control. Plus, customization means you can choose your ideal material and you can also negotiate with the manufacturer to get the most budgeted price which as a result, you may reach a win-win situation together with the manufacturer.
3. Comfort
The comfort is the most direct feelings from both your customers and your nail techs. Some spa pedicure chairs have good leather covers, some have the vibration functions and some are electronic remote controlled, all those can bring different levels of comfort for your customers. Therefore, you must select the most suitable one for your salon combined with your salon's orientation, your budget, your benefit, and your customers.
4. Price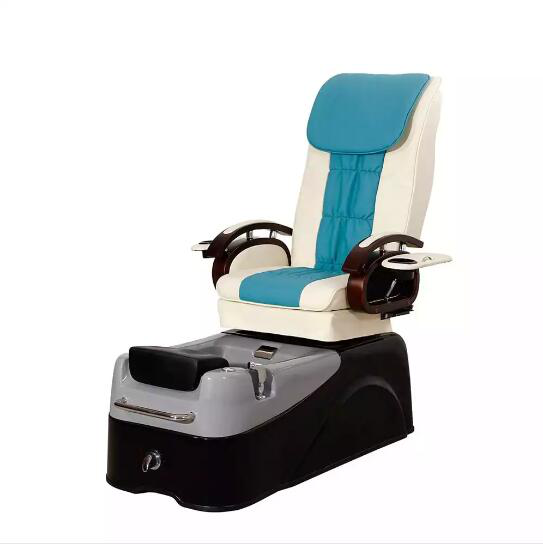 For the newbies, cash flow is a major concern so it's not wise to spend a lot on the salon furniture. Everything should be considered under your budget. But remember, the cheapest one is not always the best choice for you because it may have quality problems and you need to usually spend a lot of money on it for repairs. For these with salon opening experience, you should take customers' experience into consideration to select the pedicure chair and also consider whether this investment can bring benefits for you.
5. Weight limit
Some usually ignore this aspect but it turns out it's quite crucial for your business. Every pedicure chair has its own weight limit, and over the limit, the chair can be easily damaged which means you need to spend money on repairing it and you lose the opportunity to seek for warranty from your manufacturer. The most horrible thing is that you will bring a super bad experience for your customer and you will lose your client and finally you may get a bad reputation for that. You can both buy normal weight chairs and high weight limit pedicure chairs so you can also provide service for those people who are overweight. Some salon doesn't provide pedicure service for overweight people so you can find your market on it.
6. Design
You must want your unique ones and fit your salon's look and feel especially for those high-end luxury salons, so the design style should be considered when you buying pedicure chairs. A unique style will make your salon stands out!
7. Technology
Does the product adopt some new technologies to bring more comfort? Is the product safe when using it? Is there any new function for some brand-new pedicure chairs? Different manufacturers may adopt different technologies to produce their products to meet different requirements, so this aspect is the way you can't miss to think of!
8. Modern pipe-less chair
Choosing modern pipe-less pedicure chairs which can offer a higher level of hygiene. Although at a higher price, it is easier to clean and maintain disinfected. Pipe-less with removable jet or water agitator, something can come completely apart to be cleaned.
9. Drainage system
All pedicure chairs require a draining system but you don't have to place your chair near a drain. You can buy a discharge pump(drain pump) to allow you to pump the water out of the chair's basin into a remote drain. Now there are even manufacturers that can provide complete gravity drainage system pedicure chairs which is super convenient for you.
10. Special features
The additional features and options that are available when you choosing the pedicure chairs really matter. Customers care about the experience they have gotten from your salon. A build-in massage system and a comfortable seat or adjustable backrest are the aspects you should pay attention to. An integrated message system can highly improve the pedicure experience to the next level and it's a good investment although it may cost double money than normal pedicure chairs. Besides, considering if you need to buy disposable liners or other accessories which provide an increased level of hygiene.
11. Warranty
The pedicure chair's warranty is essential for you to identify whether you should buy that one and trust the manufacturer. Remember, never buy anything with less than a 1-year warranty on parts. And make sure there is a licensed plumber on your salon pedicure chair!
12. Replacement terms
Pedicure chairs also need to be carefully maintained and upkeep is required. Remember to make sure before you purchase that the pedicure manufacturer will provide you the replacement parts.
Conclusion
Find a reliable pedicure chair manufacturer with rich experience by these 12 tips and get your ideal pedicure chairs for your salon! In addition, we have beauty equipment for sale, if you want to know more, you can contact us.

Tags: Pedicure chair