There are two categories of people who need salon manicure tables: Professional manicurists and hobbyists. Nail hobbyists may not need a high-tech manicure table with an outlet, but having special tools can make your manicure easier, faster, and more enjoyable. Let alone a professional manicurist. For the standard nail salon or manicurist, having a delicate manicure station equipped with a various accessory will be more convenient to provide service to clients, and greatly raise working efficiency. Below is some information needed to know when choosing a nail tale.
Select Salon Manicure Tables
(1)Fixed or portable nail table
If you are at home or travel outside sometimes, a portable manicure table is a good choice. It is also an ideal choice for nail enthusiasts because they don't need to use them frequently and these folding manicure tables can easy to store and save space. However, for the table in the salon, you need to use a fixed manicure table which is more robust, providing clients with a choice of services that can really benefit you.
(2)Manicure table with storage space
Nail polish and nail products seem to increase miraculously and occupy more space than we expected. And you must still look for the nail desk with enough or large storage space to store them (such as nail polish, manicure tools, and dryers, small electric blowers,etc.). Some nail stations offer amazing storage, from drawers to shelves to unique display features.
(3)Manicure table with the built-in exhaust pipe and dust collector
When making manicure, the chemical smell of the nail polish products is permeated in the air. With a hidden exhaust pipe in the manicure table, It can automatically absorb and clean the nail powder on the desktop and prevent chemical odor and nail powder from entering your body to damage health, and meanwhile to maintain fresh air for the beauty salon.
(4)Manicure desk with lamp
It's crucial to be able to see what you're doing. Manicurists can supply better service for our clients under working on a bright lamp.
(5)Manicure desk with the shield
This transparent plexiglass shield acts as a physical barrier and helps maintain social distance. When the beauty salon is using nails, it uses transparent acrylic baffles to effectively block the spread of droplets and protect customers and themselves. It is new equipment in 2020 for a special period.
(6)The surface paint material of manicure station
Acetone is a common ingredient in nail polish removers and is a powerful decomposer that can damage the paint surface on the table. Most nail stations have acetone resistant surfaces. The PVC edge of the table is smooth.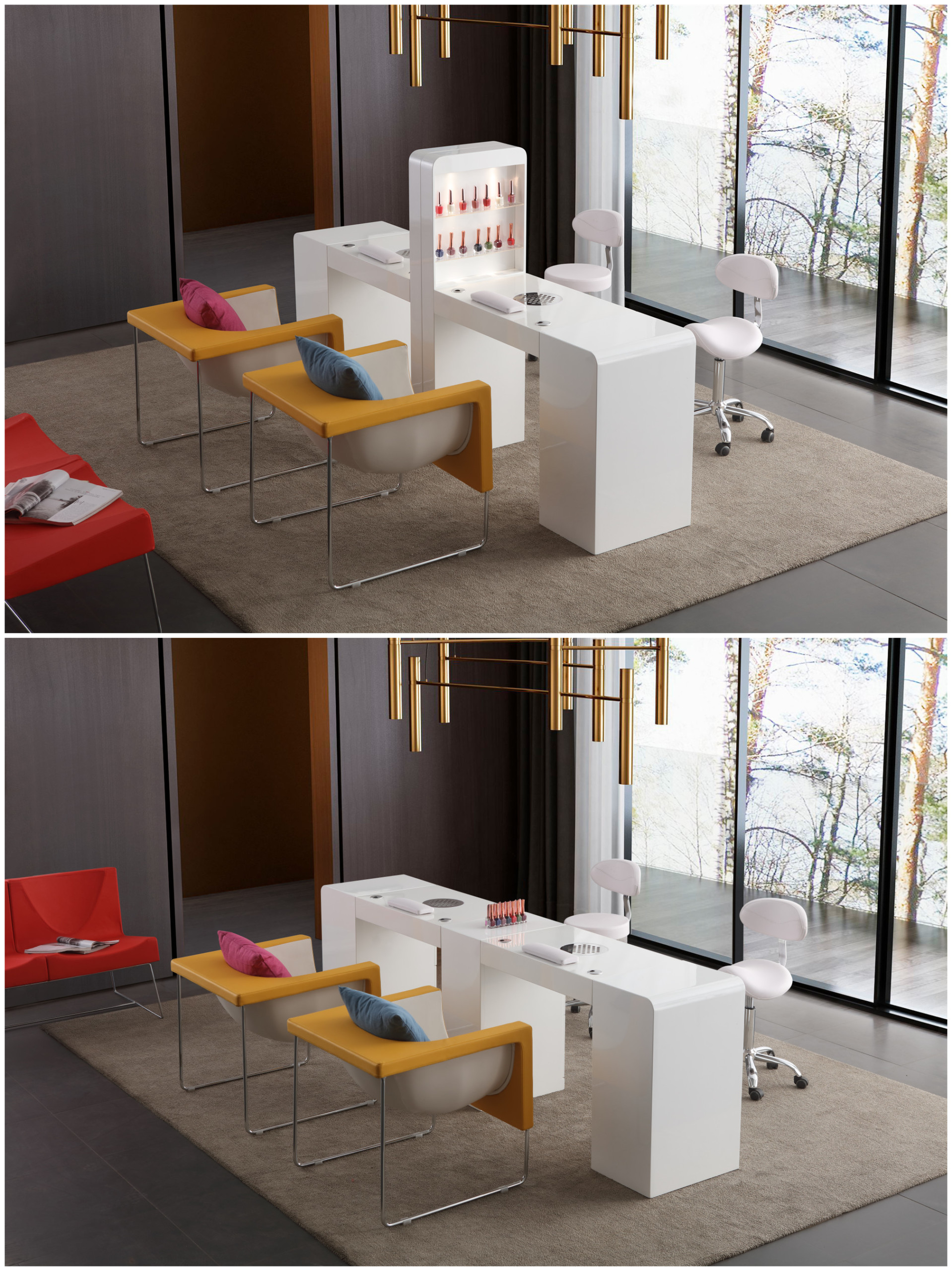 If your beauty salon offers manicure service, you'll find everything you need to create a perfect nail bar in DONGPIN's extensive range of salon manicure tables and salon furniture. Our range of manicure tables features acetone proof surfaces, and a heap of stylish design as well as function. So contact us for more details and pictures about manicure tables at DONGPIN.

Tags: Manicure Table with Shield, Salon Manicure Tables