DP-G901 Beauty facial bed
Product Detail
Feedback now
DP-G901 Beauty facial bed electric beauty bed (three motor)
DongPin provides beauty facial beds in multiple styles and functions. Come pick the right one for your studio/clinic!
Electric beds come with noise-free motors granted with 3 years warranty. Non-electric beds are designed for simple and convenient operation so that every user can get started easily.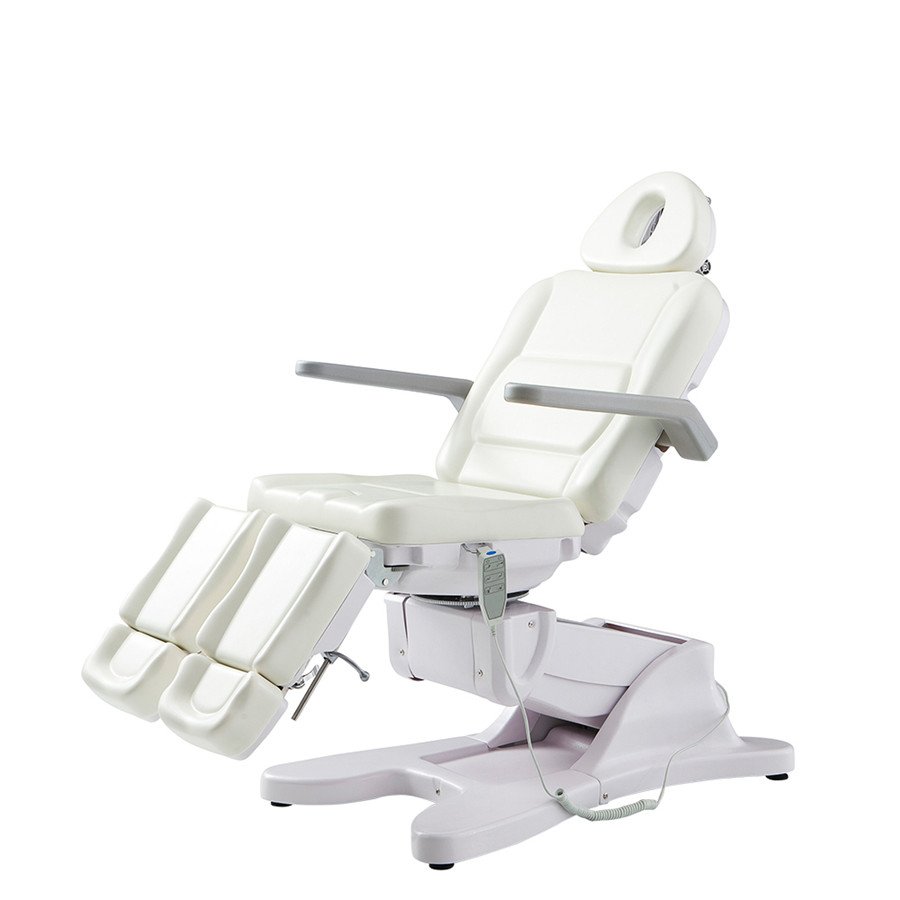 Product details:
1.Pillow angle. Pillow angle can be reversed, raised and lowered.
2.Armrest rotation 180° Turn over the armrests upwards to enable the user get on or off the bed. It will be more comfortable with the armrests as support when lying on bed.
3.Leg sliding locking mechanism. Easy to operate. Stable without deformation. Attractive and durable.
4.Die-casting. High precision. Standardization. Integrated molding.
Standard specification:
1.With 3 electric motors, CE certified
2.Height control, seat inclining adjustment and back adjustment electrically via a hand control
3.Custom detachable PU armrests
4.Detachable headrest with breathing hole and pillow
5.Weight capacity: 150kg
6.Stretchable leg extension
Dimension:
1.Height adjustable 61-90 cm
2.Seat width 58cm
3.Full length 185cm
4.Seat swivel 270°
5.Armrest adjustable 0-180° upwards
6.Back adjustable 0-75°
7.Legs adjustable 0-90°, each leg rotates 0-90°
8.Leg extension adjustable 0-12cm
9.Headrest adjustable 0-90°, can be stretched 0-10cm
10.Seat tilts 0-10°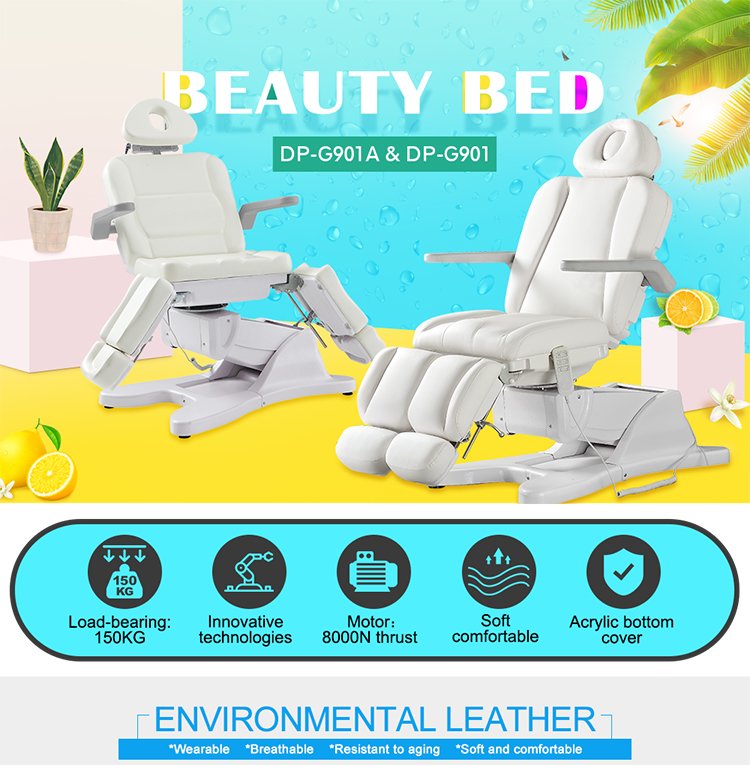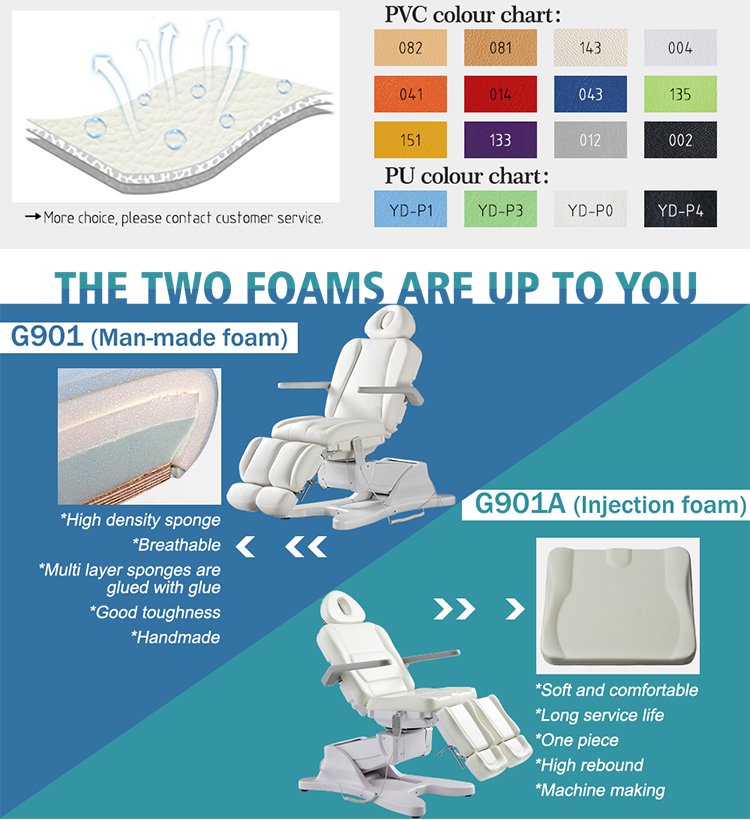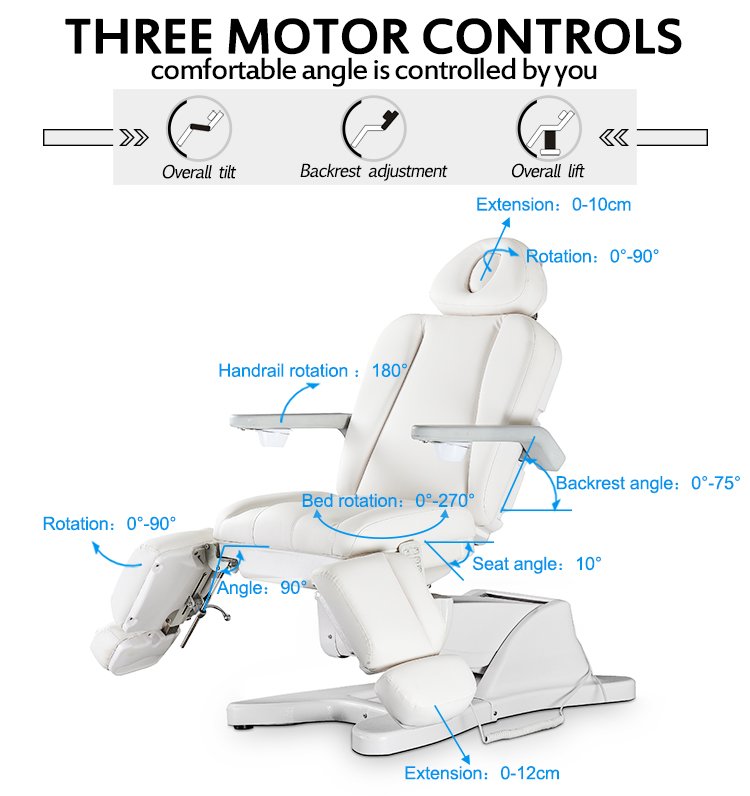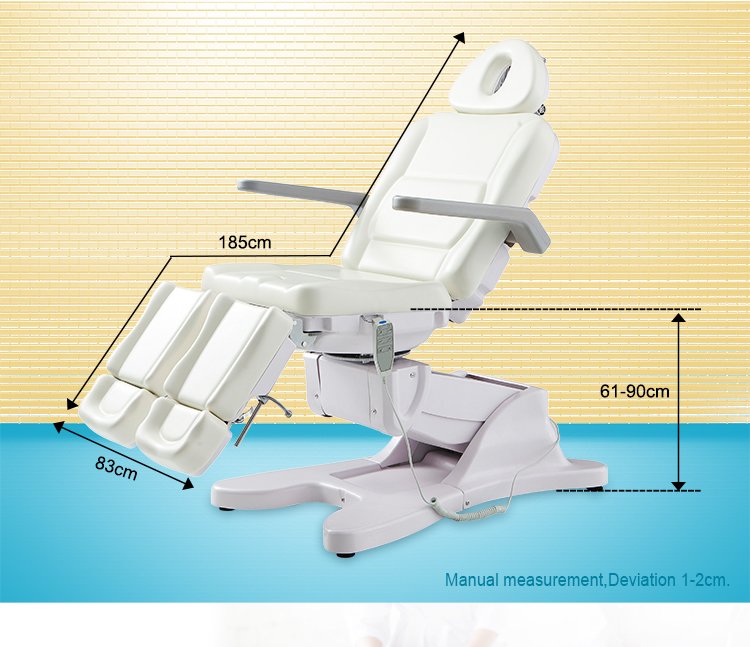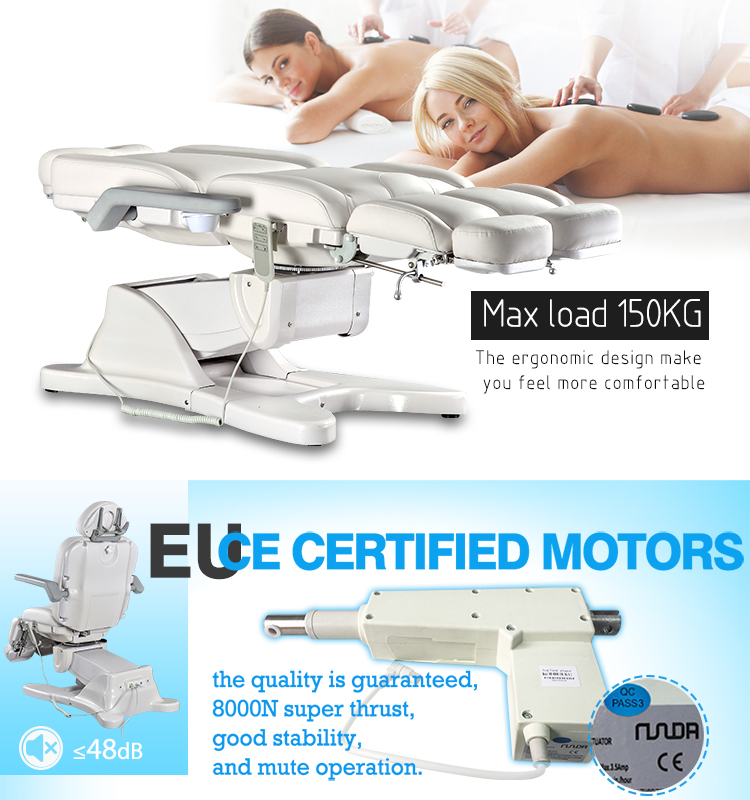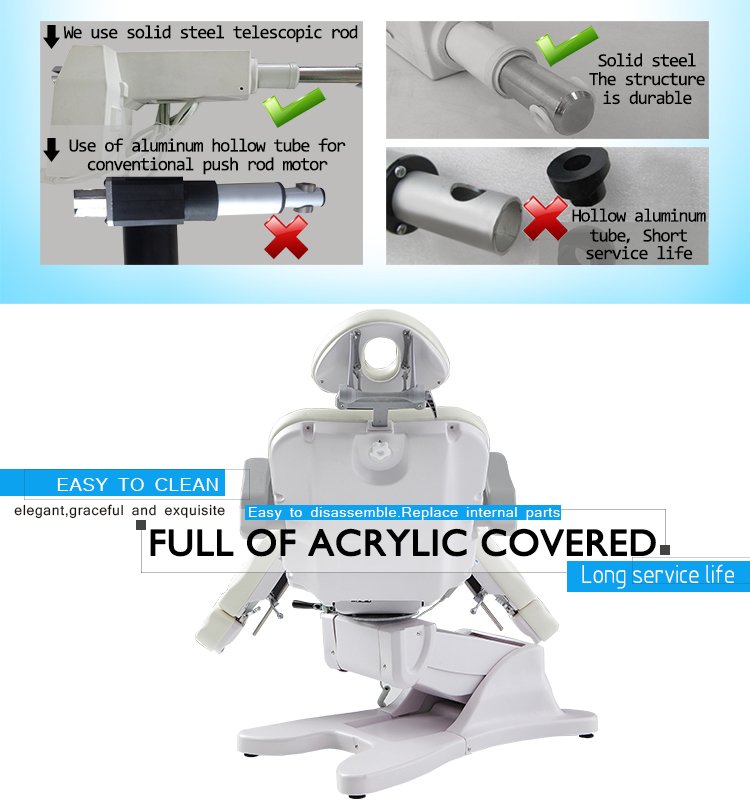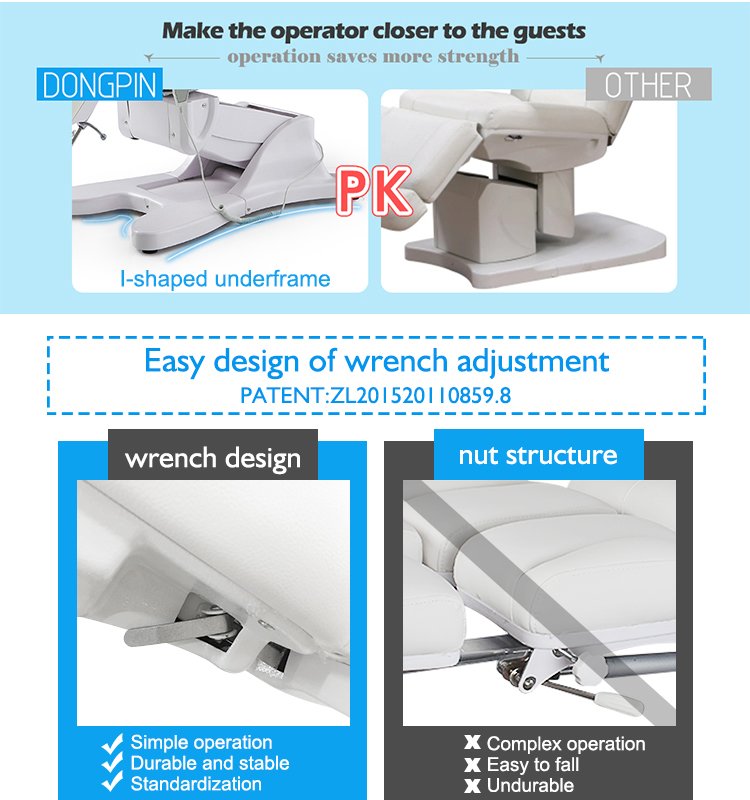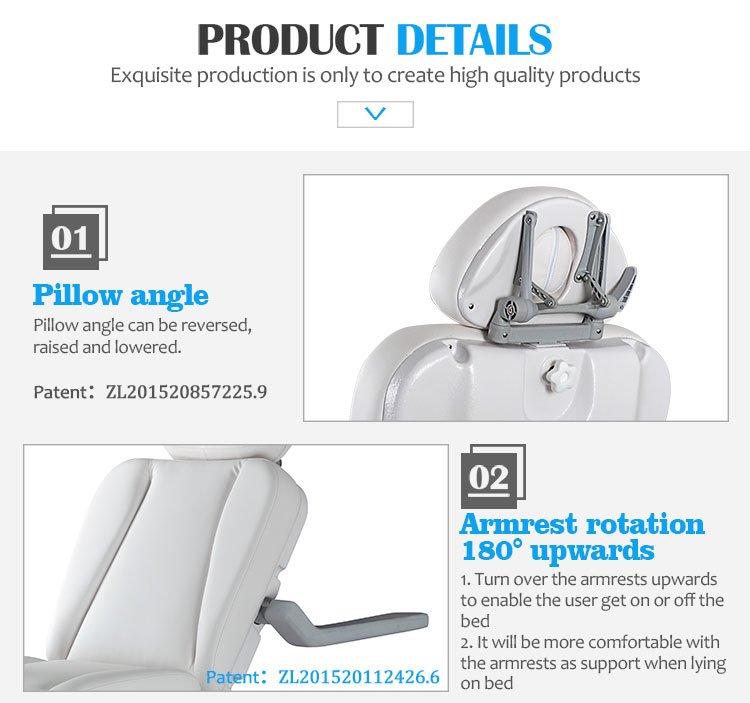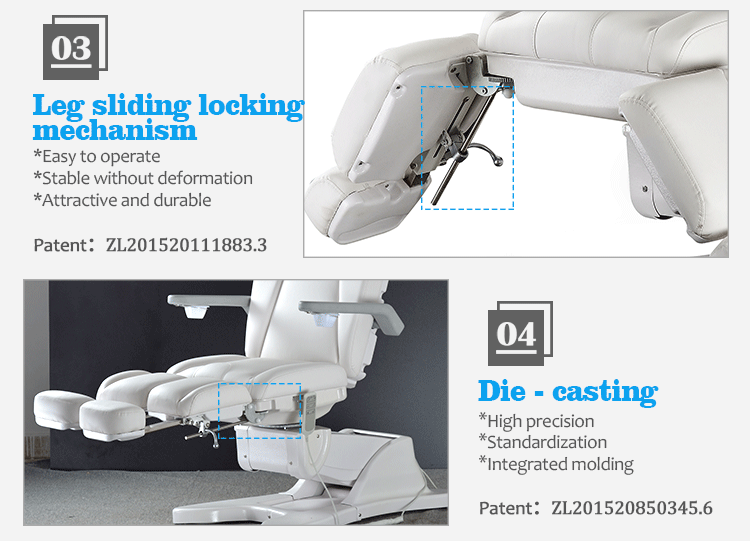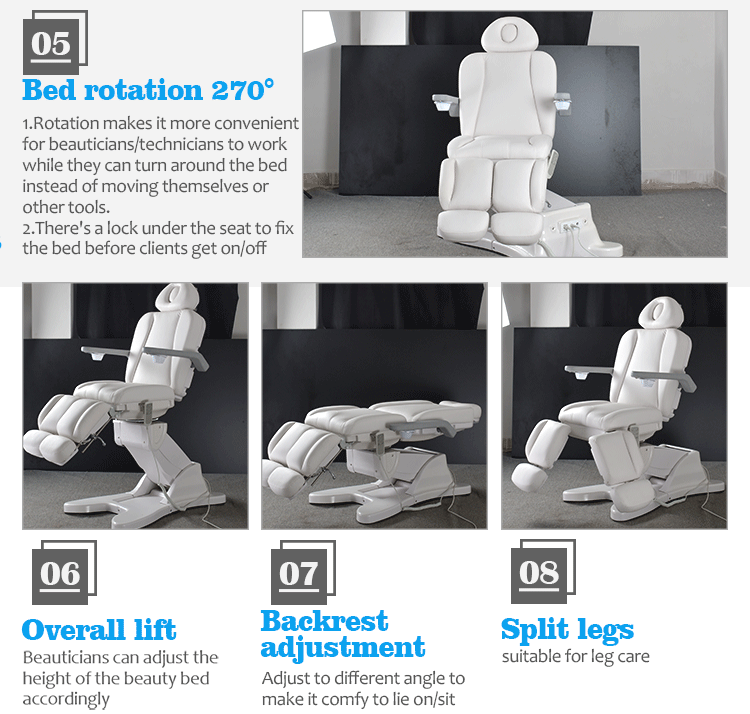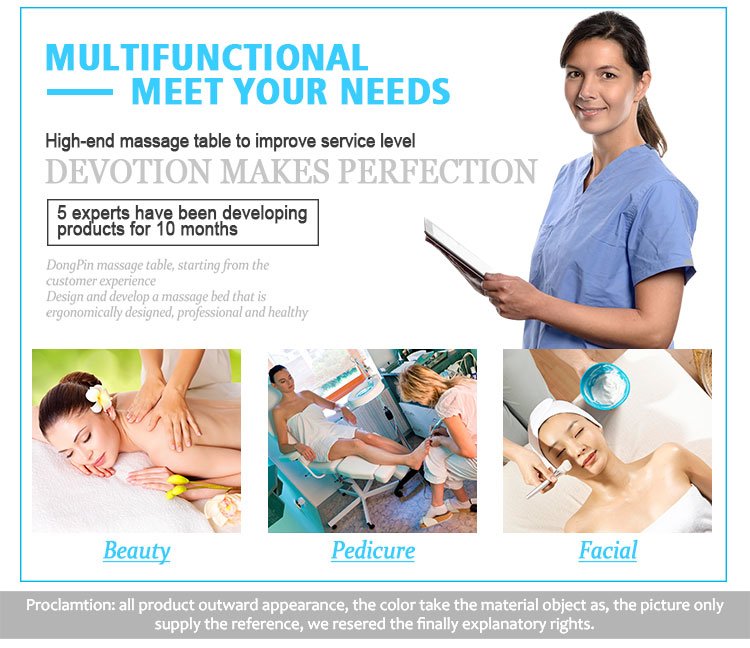 Other additional options:
A.Foot control available
B.Towel rail available
C.Optional upholstery colors
FAQ:
1.Are you a manufacturer?
A: Yes. We are a manufacturer with 15 years experience,located in Foshan,China.
2.Guarantee product quality, what do you do?
A: We have 8 professional quality inspector to ensure the high quality of all our products before packing.
After detection, the product will be thoroughly wiped and cleaned before packing.
3.Can the price be cheaper?
A: YES. A certain amount is reached and the price is more favorable. Contact your sales consultant right away.
4.Can you accept customized orders? OEM or ODM orders?
A: Yes. We can. Customized orders are always welcomed, as well as OEM and ODM.
5.Is there a spot in the US overseas warehouse?
Yes. Some products have a small inventory in Texas, USA. If you are interested in purchasing, please contact the sales consultant as soon as possible.