Experts emphasize that the main role of wearing a mask is to protect others rather than the wearer, and protective masks are more effective than masks in protecting the wearer from virus infection.
Dr. Imran Siddiqui wears masks and face shields while working in the Desert Valley Medical Group. Los Angeles Times
The Los Angeles Times reported that James Cherry, an infectious disease expert at the University of California, Los Angeles, said that supermarket cashiers and bus drivers without glass barriers should wear masks, and protective masks are more protective than masks.
Cherry pointed out that masks and face coverings are prone to itching, causing people to touch masks, faces and eyes. Respiratory viruses can not only spread through the nose and mouth, but also through the eyes.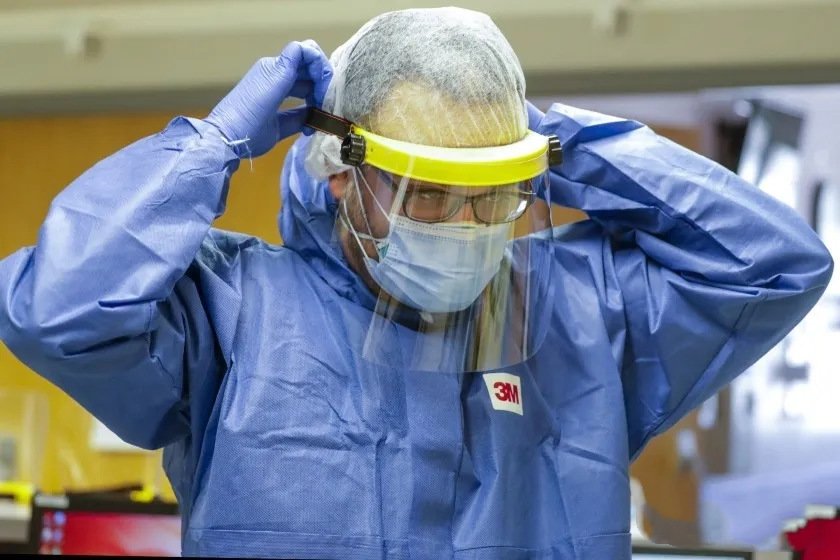 Dr. Robert Kim-Farley, an expert in epidemiology and infectious diseases at the University of California, Los Angeles School of Public Health, said that this transparent protective mask is helpful for daily contact with many people and prevents droplets from entering the eyes. At the same time wearing a mask can prevent inhalation of droplets.
Los Angeles County Public Health Director Ferrer said that medical institutions are purchasing protective equipment and urged that protective masks be reserved for medical personnel.
A study published in the Journal of the American Medical Association in 1986 showed that only 5 percent of medical staff in New York hospitals wearing goggles entering the respiratory ward infant ward were infected with respiratory disease, and 28 percent of those who did not wear it were infected.
Studies have shown that goggles can not only remind medical staff not to rub their eyes and nose, but also prevent infection by infected body fluids when hugging babies.
Chery co-authored in 1987 and published in a similar study in the American Journal of Child Diseases, showing that only 5% of medical staff using masks and goggles at the University of California, Los Angeles Medical Center were infected by respiratory viruses, but not by users 61% are infected.
The California Department of Public Health stated that hands should be washed before and after touching or covering the face. After use, wash the mask with hot water and dry it in a high-temperature cycle. Discard the loose or damaged mask.